Great news from the Joe Craft Center: PJ Washington has returned to practice.
CoachCal.com just shared this video of PJ participating in drills, the first time he's been back in action since undergoing surgery to repair a broken pinky last month:
Welcome back, @PJWashington.

??? pic.twitter.com/MH9jvgHaSV

— CoachCal.com (@CoachCalDotCom) July 17, 2018
That jumper looks pretty good, too:
Nice to have No. 25 back on the court. #DreamBig #All40 pic.twitter.com/V7tPC9bP2A

— Kentucky Basketball (@KentuckyMBB) July 17, 2018
I'm sure he'll need to knock off the rust, but this bodes well for PJ playing in the Bahamas.
UPDATE: PJ chatted with TJ Beisner about his first practice back.
Here's what sophomore forward @PJWashington had to say about returning to practice tonight.

Listen to the "Behind Kentucky Basketball" podcast for more insight into PJ's first practice with the team. pic.twitter.com/zuJ7E7DTz4

— CoachCal.com (@CoachCalDotCom) July 17, 2018
The one and only Big Mick is a meaty masterpiece in its own right. Composed of two quarter-pound patties* of never-fresh, frozen, mostly beef raised close to the processing plant. Only McDowell's has the frosted beef and processed cheese to give you a major reason for the afternoon trip to the secret bathroom only you and Debra know about on the 9th floor that is under construction.

---
You can be a part of McDowell's KSR Top 10 Tweets by using hashtags like #KSR #BBN or #KSRtop10. You can also nominate tweets by mentioning them with the hashtag. If we like what we see, it could be posted the next day.
If you are interested in sponsoring KSR's Top 10 Tweets, please contact us at Via Email.
#10 New York Knox
Time to do a poll @DrewFranklinKSR pic.twitter.com/gz4cuNDBP3

— New York Knox (@univerky) July 17, 2018
Who ya got?!
#9 LCE
Glad @KySportsRadio did not get the final call on hanging TVs, otherwise they would all be on the floor leaning against the wall!! #BBN #KSRTop10

— LCE (@healthlawatty) July 17, 2018
You're not wrong.
#8 Shawn Perry
Birthday present! #BBN #KSR pic.twitter.com/ykKaX90s5D

— Shawn Perry (@REALSHAWNPERRY) July 16, 2018
Awesome.
#7 Jaime
Great question on #KSR what is your favorite announcer call all time for a UK basketball game #BBN
"The Comeback Cats can't be denied" or the call on @CameronMillz duke shoot

— Jaime ???? (@Treestand_tweet) July 17, 2018
"For the eighth time, college basketball's National Championship trophy is coming home to Kentucky!"
#6 Ray J. Vaske
@KySportsRadio @DrewFranklinKSR @Drake trying to make that awful orange look cool…#BBN #KSRtop10 #Finesse https://t.co/IK8AJl0yp4

— Ray J. Vaske (@outRAGEous02) July 17, 2018
Even Drake looks bad in that shade of orange.
#5 Emily Fry
— Emily Fry (@emilyrosefry) July 17, 2018
Every reference to The Office gets included in the Top 10 Tweets.
#4 zacada
@KySportsRadio @ryanlemond @DrewFranklinKSR pic.twitter.com/g35cEtaZmY

— zacada (@zacada28) July 17, 2018
Well that's… an interesting look for Shannon.
#3 Wes Ledford
Is that @ryanlemond on that lunchbox? @ShannonTheDude @DrewFranklinKSR pic.twitter.com/mgVr4eROaZ

— Wes Ledford (@wesledford) July 17, 2018
We're all still waiting for Ryan's hair to grow back like this.
#2 Cayden Hacker
@DrewFranklinKSR can we get some photoshops plzzzzzzzzzz? https://t.co/xxCXjCmLMD

— Cayden Hacker (@Cayden5000) July 17, 2018
DREW! PLEASE! WE NEED YOU!
#1 Jeff Puckett
Jackson Mitchell Baber – Newest member of BBN. #KSRTOP10 #BBN pic.twitter.com/8HqtMuw7qW

— Jeff Puckett (@WJeffPuckett) July 16, 2018
Well this is the cutest thing I've ever seen.
---
Doron Lamb is one of the best three-point shooters in Kentucky history. And according to SLAM Magazine, he's one of the best basketball players in New York City history.
SLAM named the 60 best basketball players to ever come out of the Big Apple today and Doron Lamb made the cut. The players are not ranked, but this is the short snippet about Lamb.
Doron Lamb

Lower East Side native Doron Lamb started his high school career at Bishop Loughlin in Brooklyn. He put up 22 a game as a sophomore, catching the eye of Oak Hill Academy. He left New York to finish high school, finding his way to Kentucky as a collegian. He won a National Championship in 2012.
Now seems like a good time to revisit Lamb's two years in Lexington. His title game in 2012 is one of the more underrated performances in a big game.
Editor's Note: The following was written by Harold Leeder, editor-in-chief of The New Circle Circular, Lexington's #1 source of fake news you can't count on.
University of Kentucky Athletic Director Mitch Barnhart held a joint press conference with Former President and current Czar of Tennessee Al Gore where Barnhart announced that, despite all of the evidence uncovered by people showing Tennessee with checkerboard uniforms long before UK made the switch, Tennessee had no involvement in the checkerboard uniforms introduced a few years ago.
With the checkerboards being such a bad idea, Tennessee would seem to be an easy scapegoat for the error. However, Mitch and others claim it's not an error at all, let alone the fault of Tennessee. "I asked Mr. Gore if he tricked us into using the checkerboards so they [UT] wouldn't look as dumb wearing them and he said they didn't do it and they've never even worn checkerboards," Barnhart said. "They had nothing to do with the checkerboards, they were all my idea and, frankly, everyone loves them."
When presented with pictures of Tennessee utilizing the checkerboard design in the past Barnhart simply said: "those aren't checkerboard, those are chessboard." Barnhart went on to explain that Chess represented Tennessee because it is a game with a long history and is played by the top minds in the game whereas checkers represented Kentucky because our strategy in football has largely been centered around wildly jumping over people and getting to one end of the field and stacking players on top of one another for some reason.
UK officials were reportedly disturbed to hear Kentucky thrown under the bus but planned to do nothing about it.
To keep up with The New Circle Circular, like the Facebook page or follow Harold Leeder's Twitter Account.
A big congratulations to Jonny David and Dillion Pulliam, who were honored by the National Association of Basketball Coaches for their outstanding academic achievements following the 2017-18 season. The NABC recognizes students who are juniors or seniors (what are those?) with a GPA of 3.2 or higher.
Pulliam left the program this past May to pursue a master's degree in electrical and computer engineering at Carnegie Mellon. He graduated from UK with a 4.0 GPA and gave up a final year of athletic eligibility to begin the next phase of his education.
David is back this year as the old man on the team. He is a three-time member of the SEC Academic Team and is slated to graduate in May of 2019 with a degree in kinesiology.
Go Cats.
Kevin Knox hasn't been a New York Knick for even a month and he's already collecting honors. This evening, Knox was named All-NBA Summer League First Team after averaging 21.3 points, 6.5 rebounds, and 2.3 assists over four games in Las Vegas.
Knox turned heads early and often in the Summer League, using the rim as his own personal chin-up bar and scoring from multiple spots on the floor. Knicks fans that booed the team for selecting him on draft night quickly changed their tune as he asserted himself as one of the most impressive draftees. Aaron Torres believes he could be the steal of the draft:
Kevin Knox is Shaping Up To Be the Steal of the 2018 NBA Draft
Even though Knox's run in the Summer League ended last Thursday, he stuck around over the weekend to watch games:
Knox was the only former Kentucky player to earn Summer League honors. He's joined on the First Team by Wendell Carter Jr. (Chicago), Collin Sexton (Cleveland), Christian Wood (Milwaukee), and Josh Hart (Los Angeles Lakers), who was named Summer League MVP.
Enjoy his highlights below:
[NBA.com]
In the middle of the madness on day two at SEC Media Days, I took a little break to wander through the spacious College Football Hall of Fame in Atlanta.  Even though they say Kentucky isn't a football school, the Cats are all over the Hall.
Just beyond the grand entrance of helmets, Tim Couch's jersey is displayed for the special occasion.  On the ballot for the second consecutive year, it's only a matter of time before his No. 2 has a permanent home at the Hall of Fame.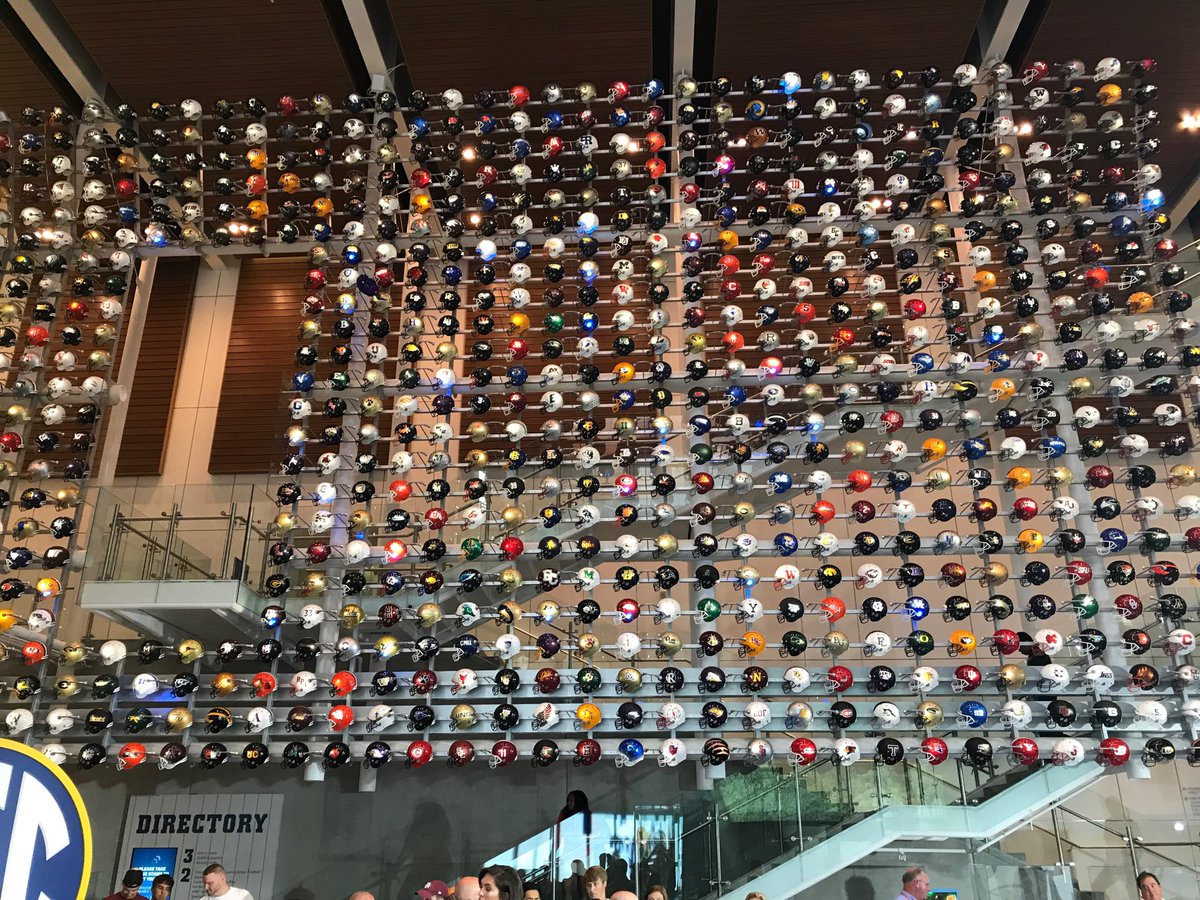 Up the stairs behind the wall of helmets is the rotunda.  Interactive displays allow you to learn about the more than 1,000 Hall of Famers.  A simple search of Kentucky will lead you to this:
After clicking on a player, you'll find archived photos and videos, like these:
There are interactive exhibits at the CFB HOF where you'll find the best of the #BBN pic.twitter.com/oYWFnjshwC

— Nick Roush (@RoushKSR) July 17, 2018
I have a few players from the 80s will love seeing Jerry Claiborne's highlight reel pic.twitter.com/wUScg9G3RJ

— Nick Roush (@RoushKSR) July 17, 2018
After spending time in the rotunda, the stairs take you through the heart of the museum that is filled with theaters, more interactive exhibits and tons of relics from the past, like these trophies.  Did you know there's a MacArthur Award, named and designed by the WWII general, given to college football's best team after each year?  I had no idea.
This morning, Oscar Combs released the latest episode of his podcast, and it's well worth a few minutes of your time. UK's premiere basketball historian interviewed the great John Y. Brown, the former governor of Kentucky, Kentucky Fried Chicken entrepreneur, and owner of the Kentucky Colonels, Buffalo Braves, and Boston Celtics.
In part one of the three-part series, the two touched on a variety of topics, including Brown's college days at UK, how he got Adolph Rupp and Colonel Sanders in the same room, and his decision to get into fried chicken, pro basketball, and politics.
Listen below, and keep an eye on Oscar's Twitter and website for parts two and three. Based on these teasers from Oscar, you won't want to miss them:
Later in the my Podcast 3-part series, John Y. tells his side of the story in regards to trying to get Fran Curci fired at UK and replaced by NFL coaching legend George Allen in 1981. He deplores UK football's lack of success since Bear Bryant days. Says there is no excuse. #BBN pic.twitter.com/oShvxjRkRf

— Oscar Combs (@wildcatnews) July 14, 2018
John Y said his single biggest sports-related regret as governor was getting involved in Curci coaching issue. He also says he quit attending UK home games during Tubby Smith era when son, Saul, became a starter. Like I said, Gov. Brown holds nothing back here. @KentuckyMBB #BBN pic.twitter.com/IpVQCjiQoT

— Oscar Combs (@wildcatnews) July 14, 2018
We found out a few months ago that ESPN's E:60 series was doing a feature on Jared Lorenzen; set your DVRs because it will air Sunday morning at 9 a.m. ET.
ESPN released this trailer for the episode, entitled "The Hefty Lefty," this afternoon featuring interviews with Lorenzen's former coach Rich Brooks, former Georgia linebacker turned ESPN commentator David Pollack, and former Giants teammate Eli Manning.
.@JaredLorenzen22 aka "The Hefty Lefty" was a legend at @UKFootball. Now he's in the fight of his life. pic.twitter.com/M5kcHMWsZ5

— E:60 (@E60) July 17, 2018
Earlier this summer, Jared's weight loss made national news when he shared he's lost almost 100 lbs. His journey has been incredibly inspiring and we're all very, very proud of him.
Don't forget: ESPN, Sunday, 9 a.m.
Drake may be best buddies with John Calipari and claim to be a Kentucky superfan, but what real Kentucky fan would be pictured wearing a Tennessee shirt? Drake just posted two pictures of himself with internet comedian Shiggy wearing that puke inside of a pumpkin orange on Instagram:
Shiggy is the creator of the #InMyFeelingsChallenge that's gone viral the past few weeks. Since he posted the video of himself dancing to Drake's song, sports stars across the country have done the same, including Tyler Herro, Immanuel Quickley, John Wall, and our own Ryan Lemond:
For those who wanted to see @ryanlemond dance. Here you go. @CM_Tomlin @KySportsRadio @ShannonTheDude pic.twitter.com/tcVHgdYnh6

— DiamondDanielDunston (@DanielDunston) July 17, 2018
The Shiggy dance is cool and all, but c'mon, Drake. You're just giving everyone who criticizes you for being a bandwagon fan more ammunition.
UPDATE: The shirt is styled to say "Finesse," not Tennessee, but that's not stopping my eyes from rolling.