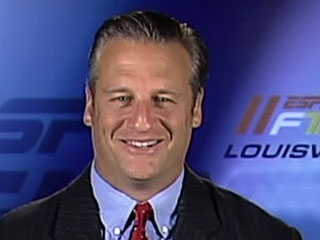 Sometimes it is amazing how things work in the Bluegrass. Two days ago, all we were talking about was John Wall and how many titles UK would win in the coming years. Fast forward two days and the conversation is about the great hair of Pat Forde and his rivalry with Calipari. For those of you that havent been keeping up, Forde was on Outside the Lines and gave his standard take on Calipari (great coach, lots of rumors about how he does things, why didnt he get hired last time by UK….etc) and some fans felt a bit offended. I must admit that I finally saw the interview last night and found it fairly innocuous. Forde is not a Calipari fan, was hard on him while at Memphis and has made it clear in the past that he thinks it is highly suspect that he was hired at Kentucky (so much so that Forde said during the search that Travis Ford would be the next UK coach). But overall the shots werent low blows and I didnt find it too out of line. Calipari responded with his now famous "tweet heard round the world" in which he asked what Ford(e)'s deal was and wondered if he was trying to sell books and deflect attention from down the road. A great barb from Cal and one that played well in the Big Blue Nation.
What was interesting to me about the tweet was not the comments about the OTL interview (which I dont think was all that big of a deal) but Calipari bringing up what I do think is a big issue right now with Forde. I find it simply astonishing that Pat Forde is the ESPN writer covering the Rick Pitino saga. For those of you that dont know, Forde lives in Louisville and has been in the Bluegrass state for a long time. His time at ESPN has led to more coverage of UK and UL on the ESPN.com website and overall it is a net positive for both schools. While Forde has had his run-ins with UL before (the now infamous "turning in" of UL to the NCAA in the mid 90s), he now is cozy with the school and has recently written a book with Rick Pitino. Yes you read that last phrase correctly, he has WRITTEN A BOOK with Rick Pitino, yet the most powerful sports entity on the planet has decided that he should be the one covering the Pitino scandal. Forde has interviewed Sypher, published a story on it (while still not writing the allegations) and is the one outlet for the national audience on Rick and his troubles….all the while sharing a financial interest in his success.
With that history, what justification can ESPN have for putting Forde on the story? If Pitino's career were to go down in flames due to the allegation, it is likely Forde's book would as well. Is that not a blatant conflict of interest?. When the website The Big Lead questioned whether Forde should be covering UL at all, it seemed the big network pulled him back a bit from the Cards. But now comes the most important Pitino story of the last few years, and Forde is the point man. Do I think Pat does not have the ability to be unbiased? No. Pat is a great reporter and he certainly has the ability to set aside his prejudices and report the story. But the appearance of bias is so great that almost anything he does has to be looked at as questionable. ESPN.com probably uses Forde on the story because he is close to the situation…and I am close to members of KSR, but that doesnt mean I should be the one reporting on them for the New York Times.
Ultimately, the Forde saga on the Pitino story is part of what I still believe is the worst media performance on a major local sports story that I have seen. Say whatever you want about Jerry Tipton….if this were John Calipari and the allegations were about him, you know they would be published or Jerry would raise a fit. But the local Louisville media and the authors who work with the coach have made decisions to let the story go. Forde certainly has the right to be critical of Calipari and question his past and future. But when he does so, he goes based on innuendo and allegations that have not been proven. On Calipari Pat Forde plays the role of hardened journalist…which is perfectly fine. But somehow when it comes to Rick Pitino, his co-author strikes a much more measured and reserved tone. Why is that? Well only Pat and ESPN know, but so long as he is the point man on the case, another investigative outlet will sit and let Rick Pitino continue to control the media coverage of his own case.